Volcanic activity below the island gives us opportunity not only to heat our homes with green geothermal energy, but also creates a lot of opportunities for leisure. What are the most famous hot springs in Iceland? What is the best way to visit those places and how much does it cost?
Blue Lagoon - one of the world´s wonders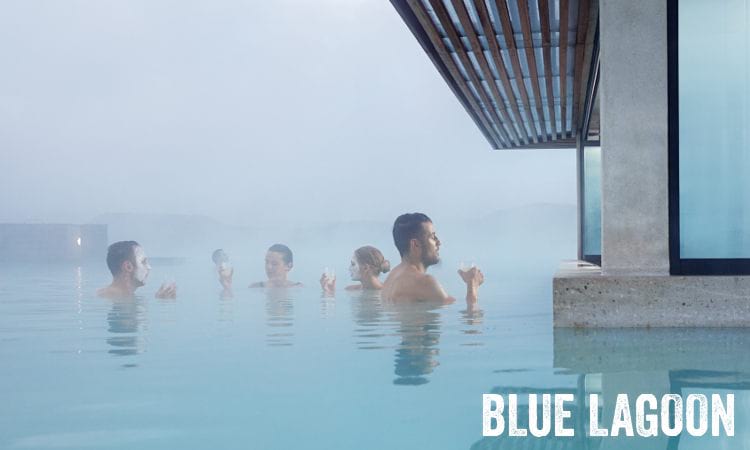 On 2012 National Geographic named the Blue Lagoon one of the "25 wonders of the World" and since then this place has become one of the world most famous SPA´s. But what exactly makes this place so unique? Back in 1976 it was just an 800 years old lava field, one of many similar on the Reykjanes Peninsula. During construction at the nearby geothermal power plant it got flooded by geothermal seawater, which created not only a unique landscape, where dark fields contrast with blue waters, but also an ideal place to relax and improve the condition of those who visit Blue Lagoon. Its waters are rich in silica, algae and other mineral ingredients which have positive effects on skin. What is interesting it that you can also take an advantage of Blue Lagoons benefits once at home. After this place had become famous for its healing effects in 1993, a cosmetic line based on the lagoons water was introduced. Pioneering research enabled the skin care line to evolve into a spectrum of products for daily treatments. What is worth to highlight is the fact that it adheres to the highest mandates of eco-friendly sustainability.
Sauna, steam room and other attractions of Blue Lagoon
In addition to the geothermal spa, the Blue Lagoon offers a sauna, steam room, waterfall and a selection of inwater massages and treatments. Since this place is almost constantly fully booked, anyone who wants to take the opportunity to visit it, is more than welcome to join our Golden Circle, Kerið Volcanic Crater and Blue Lagoon day tour. After a day full of adventure on the Golden Circle you can soak and relax in blue, warm waters.
Click here to learn how the visit at the Blue Lagoon looks like during our tour
Krauma - amazing place in Western Iceland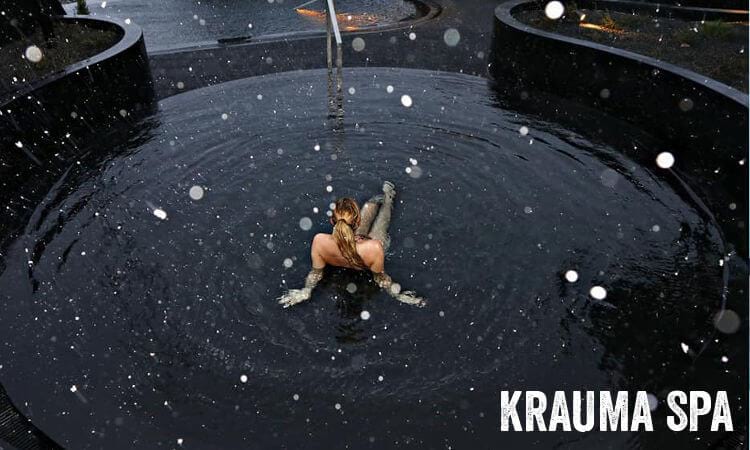 One of the newest SPAs in Iceland is built next to Deildartunguhver Hot Spring, where 180 liters per second of hot water (over 100 °C) pumps out of the earth. Until 2017 it was only used to heat houses and greenhouses in surrounding areas, but owners of Krauma Geothermal Natural Baths created a beautiful facility for anyone who is looking for ideal place to relax and unwind. Krauma offers a total of six baths, five of them with geothermal water, two saunas and a relaxation room with a fireplace. What is most important – the water constantly flows through pools and no chlorine or any detergents are needed to keep clean and natural bathing conditions. In order to reach a perfect temperature, water from Deildartunguhver is mixed with pure water from Rauðsgil, which originates in the glacier Ok – the smallest glacier in Iceland. During the bath you can also take an advantage of an in water beverage service and admire the unique views. The view over the mountains and boiling hot springs shows the true force of nature. Krauma is not the only reason why it is worth to visit the Western Part of Iceland. In a short distance from the hot springs are amazing places like Viðgelmir Lava Cave, Hraunfossar and Barnafossar waterfalls. During our 2 day Snaefellsnes Peninsula Tour and Lava Cave, Krauma SPA & Waterfalls Day Tour you have an opportunity to visit them all.
Mývatn Nature Baths (known as the Green Lagoon)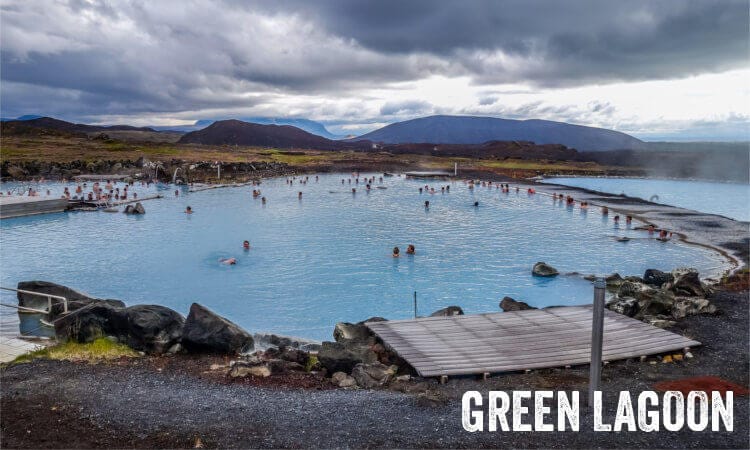 Mývatn Nature Baths, also called the Green Lagoon, is the second most famous hot springs on Iceland where you can bathe. It is a man-made place in beautiful surroundings of lake Mývatn – fourth largest lake in the country. It is a unique natural environment created in a lava eruption 2300 years ago. Here you can take a deep plunge into silky blue waters and reach for minerals, like sulfur, that will make you skin smooth and relaxed. The strength of the chemicals is unusual, so it is not advised to take a jewelry into it, as it can end up black and damaged. There are also two steam baths built straight on top of geothermal area powered by steam that rises through holes in the ground. It is also considered that bathing in the green lagoon hot spring has a positive effect on those suffering from asthma and other respiratory diseases.
Not so popular but worth visiting
Lake Mývatn is located approximately 500 km from Reykjavík, and taking into consideration the time of travel needed to get there, it is not as popular as the Blue Lagoon. But that does not mean that it is not worth visiting. The Northern part of Iceland is packed with many beautiful waterfalls, like Dettifoss, Europe's most powerful waterfall. It is also the best area in Iceland for whale watching. During our 7 day complete Iceland tour, you will have the opportunity both to swim in the Mývatn Nature Baths hot spring and take a part in an unforgettable whale watching tour in Húsavík – the capital of European whale watching.
HOT SPRINGS IN REYKJAVÍK
Iceland is full of interesting places and hot springs both in rural and urban areas. If you have some spare time between tours to spend in Reykjavík, then there is no better way to relax then a visit in one of many geothermal public swimming pools. These are in almost all neighbourhoods and are extremely popular with the locals. Icelanders tend to go into the hot tubs to relax, chat with friends and discuss many important and less important issues there.
The biggest swimming pool in Reykjavík is Laugardalslaug. You can find there both indoor and outdoor hot tubs and pools. Most likely you will not find a company under the roof, as most of the people here in Iceland tend to swim outside. It is essential to remember about your swimsuit while packing your bag for your Iceland adventure.