BEST GLACIAL ATTRACTIONS IN ICELAND
Same as volcanoes, the glaciers are very important to Iceland's economy and have a big impact on Icelanders lives. They also power the rivers which later fall from the hills forming beautiful waterfalls. Glaciers, beside their beauty and positive impact on people's life, also create a space for unforgettable experiences.
ICELAND HAS SECOND (OR EVEN FIRST) LARGEST GLACIER IN EUROPE
Vatnajökull glacier is the second largest in Europe, with area of 8100 km² and a thickness of up to 1 km. If we take into the consideration its volume (estimated at over 3,000 km³) then we can say that this one is the biggest in the whole of Europe. Vatnajökull glacier is located in the south-eastern part of Iceland within the territory of the National Park. It is home to the famous Blue Ice Caves.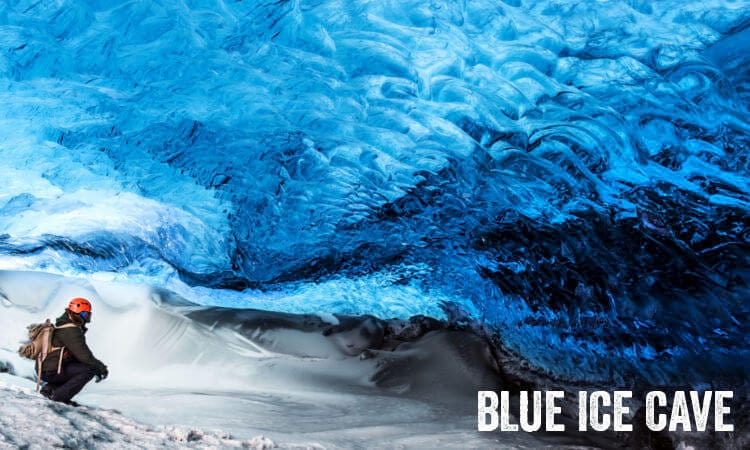 The ice caves only form in the winter when glacial water freezes to create this unique natural phenomenon. Each season, the local glacier experts find the best caves to visit in an enjoyable and safe way. But why exactly we do call them Blue Ice Caves? Icelandic glaciers are made from pure, frozen water. When we enter the ice cave and there is sunlight piercing through the clouds it lights up the ice, giving impression of the blue colour. Even a small amount of light creates an amazing, truly unforgettable view. Regarding getting to the ice caves it is worth to mention about the way we reach them. Since they are located in some distance from the roads it is necessary (and fun!) to drive there on super jeep that goes on the ice.
GLACIER… LAGOON? YES, THIS IS JÖKULSÁRLÓN!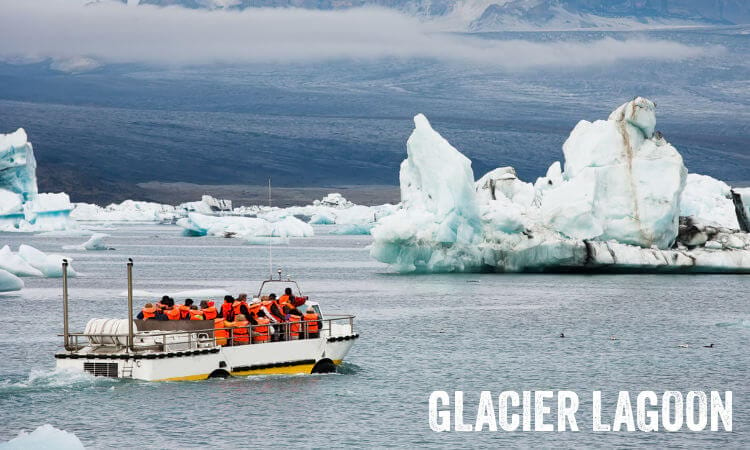 No, this is not the same place as the Blue Lagoon, but both are truly magnificent landscapes filled with blue waters. The stunning Jökulsárlón glacier lagoon is full of huge chunks of ice which crack off Breiðamerkurjökull glacier (part of Vatnajökull) and float slowly out to sea. Some icebergs wash on shore, lying on the vivid black sand like diamonds on satin.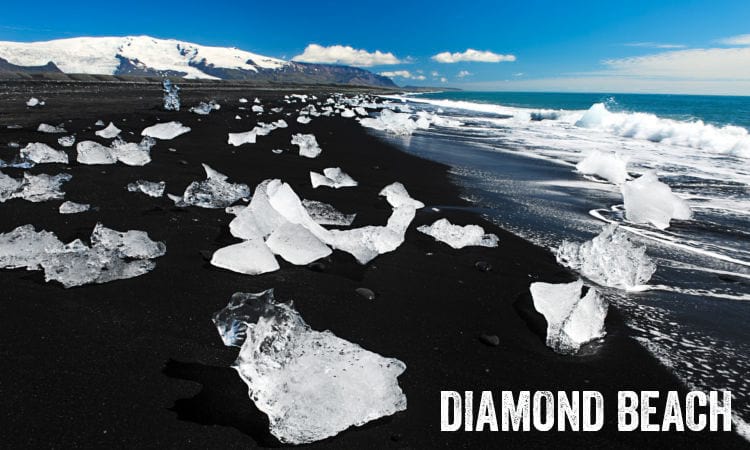 There is a good possibility of seeing seals swimming around the huge icebergs. You can even get close to them by taking a boat tour on amphibia. You can take this activity during our 2 day Jokulsarlon Tour . Long lasting memories after your trip to Iceland Glaciers guaranteed.
WHAT IS A GLACIER HIKE?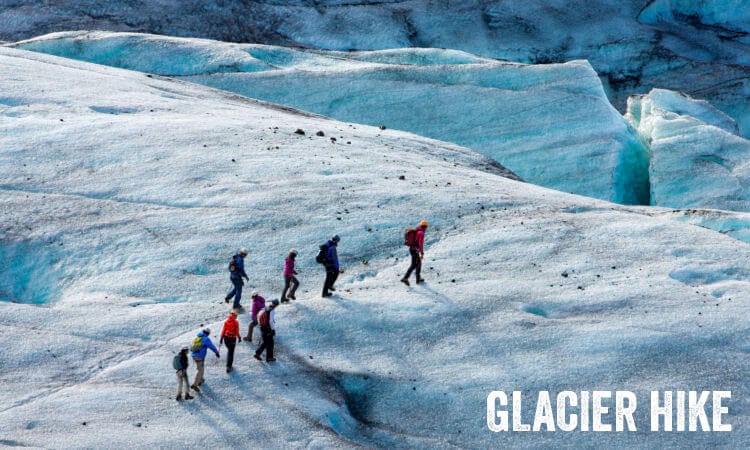 Glacier hike is one the most popular summer activity here on Iceland. However, the idea sounds quite terrifying to some people. Is it safe to hike on ice that is potentially full of holes, cliffs and other traps like we see in many Hollywood survival movies? Well, let's just make it clear – glacier hike is safe when you know where and how to do it. Equipped with the right equipment, under care of an experienced, skilled and qualified guide, you do not have to worry about anything and just enjoy the magnificent, raw view around you. Glacier hike guides know the best hiking trails on the glaciers in Iceland, so following them guarantees spending a really nice time there. During our tours we stop for glacier hike at Solheimajökull (Mýrdalsjökull glacier cap). What is worth to mention is the fact that part of this glacier is also Eyjafjallajökull glacier– well known because of the volcano of the same name located under the ice cap, famous for its 2010 eruption.
HOW TO PREPARE FOR HIKING IN ICELAND
It is necessary to wear solid hiking shoes and highly recommend to wear warm, windproof jackets. That is basically all you need to bring – we provide the crampons and all necessary equipment to walk safe on glacier. What if you do not have hiking shoes and buying them just to spend couple days on Iceland makes no sense to you? No worries, you can rent them from us. Under the tours that include activities on the glacier site like One Day Wild South Coast tour you can find and order hiking shoes rental as an extra option. Please remember to provide your shoe sizes, so we can take them on the bus for you.
Even though glacier hiking in Iceland is not very demanding activity it is advised to be in a good, regular shape. If walking up the stairs and being able to be active for at least 2 hours is not something beyond your limit, then you will be fine. There is a minimum age though – from the safety reasons we can´t take anyone below the age of 10.
OTHER ICELANDIC GLACIERS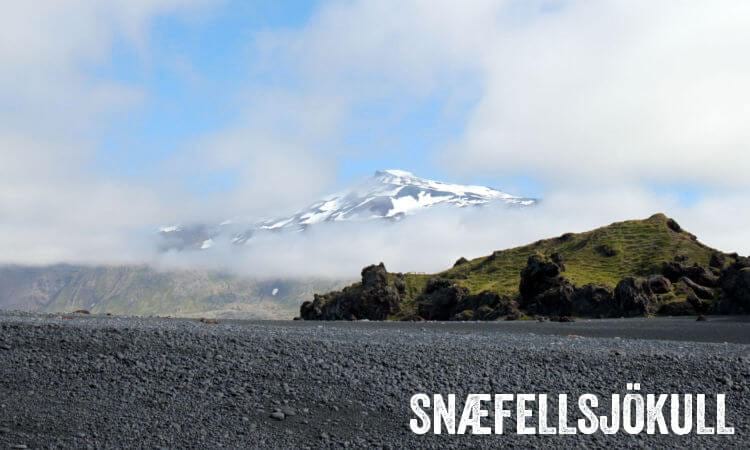 We do not want to leave you with impression that southern part of our country is the only place to see the glaciers. All around the island are located smaller and bigger glaciers, which are important part of Icelandic landscape. Snæfellsjökull, 700,000-year-old glacier-capped stratovolcano located on Snæfelssnes Peninsula, or Eiríksjökull from the north-west are only two examples. Unfortunately, due to climate change some of the glaciers are vanishing. Okjökull glacier in Borgarfjörður lost his "jökull" (glacier) part of the name and now is known as just "Ok". The reason why it has happened is its constantly shrinking size. Okjökull has lost its ability to sink and move under its own weight, so it means that no longer fits the glaciers criteria. Until it totally disappears we can enjoy the beautiful sights and bath in its waters at Krauma SPA.
Whether you just want to admire their beauty or take a part in one of many activities available on the glaciers site one thing is certain – seeing them on ICEland is a must!