GOLDEN CIRCLE TOURS – WHAT YOU CAN EXPECT?
Most likely you've heard this name before. Together with the Blue Lagoon, the Golden Circle is the most popular attraction among people visiting Iceland. In reference to Icelandic Tourist Board´s report almost 60% of visitors to Iceland want to see places located on this route. What is hidden under this name and what makes it so popular as a travel destination?
Golden Circle is the sightseeing route in Southern Part of Iceland and originally consist of three main attractions — Þingvellir National Park, Haukadalur Geothermal Area (home of the famous Geysir hot spring) and Gullfoss (the Golden Waterfall). The name Golden Circle refers to the shape of the route. If you look at the map you can see rounded shape route that you will take — starting by leaving Reykjavík heading up North and going back from the Southern side. Once you get on the route you will realize that on the way there is much more to see than the  three classic attractions mentioned above.
ÞINGVELLIR NATIONAL PARK – A UNIQUE PLACE WHERE NATURE MEETS WITH HISTORY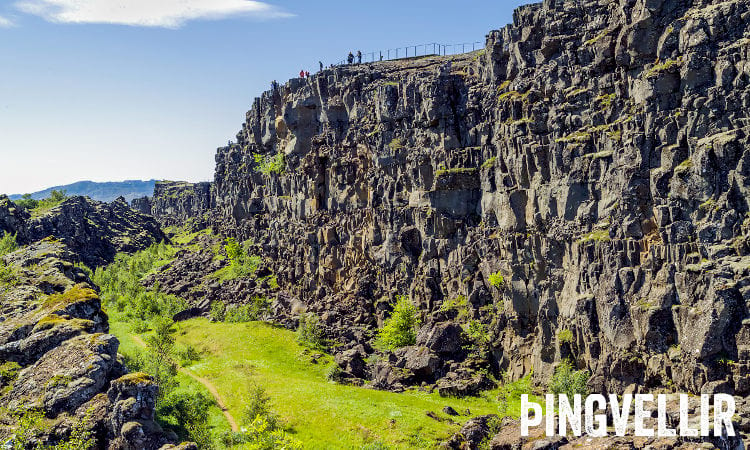 Þingvellir (anglicized as Thingvellir) is usually the first stop on the route. It lies within the belt of volcanic activity and fissures which pass across Iceland, a part of the mid-Atlantic ridge and the junction of the American and Eurasian tectonic plates. There you can literally walk between the two continents. What is worth to know is a fact that the plates drift is constantly expanding — moving farther apart every year by around 2cm. The name Þingvellir translates as "the field of parliament". The first Icelandic general assembly was established there around the year 930 and continued until 1798. When walking around the National Park it is easy to realise that the surrounding cliffs provided a perfect backdrop to giving speeches.
Þingvellir is situated on the northern shore of Þingvallavatn, the largest natural lake of Iceland with a surface of 84 km2 and 114 m in the greatest depth. There is only one river that runs into Þingvallavatn — Öxará.  That same river powers Öxarárfoss — the waterfall located within the National Park. It is rather small — around 13 meters high, but well worth seeing. As it was documented in the saga Sturlunga written on the turn of the 12th and 13th centuries, the waterfall we can admire in present days was made in the Middle Ages by people in order to provide visitors with fresh water. The waterfall is easily accessible during summer month, unfortunately during winter. the path leading there can be extremely icy.
Interesting facts about Þingvellir National Park 
2cm – by that distance tectonic plates are moving farther apart every year
930 – founding of the Icelandic Parliament
1798 – year of the last session of Icelandic Parliament
1944 – Icelanders declared independence from Denmark
GULLFOSS — THE GOLDEN WATERFALL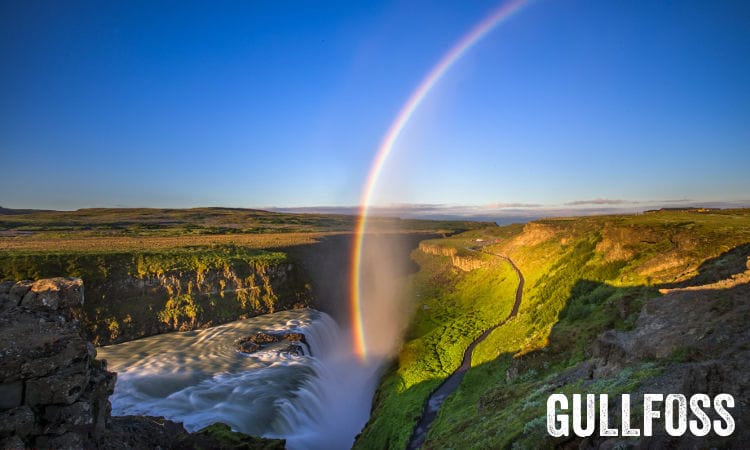 The iconic view over the Gullfoss is visible on most of the postcards and materials promoting Iceland. Obviously, there is a good reason for that. The waters of the mighty Hvíta (white) river are swept into a 70 meters deep canyon. Along the way, they defeat two cascades with a total height of 32 meters. The average amount of water running down the waterfall is estimated at level of 140 cubic metres per second.
Due to its potential there were several plans to transform this area into a huge powerplant. Luckily all the efforts were stopped by Sigríður Tómasdóttir, daughter of the landowner who was willing to sell Gullfoss. There is a stone memorial of her located next to the falls that describes the whole story. Your tour guide will most likely provide you with the full story and some interesting facts about these events.
Interesting facts about Gullfoss 
32 meters – a total high of waterfall
140 cubic meters – on average flows through it
1979 – waterfall was taken under protection of Icelandic government
105 km – distance from Reykjavík
HAUKADALUR GEOTHERMAL AREA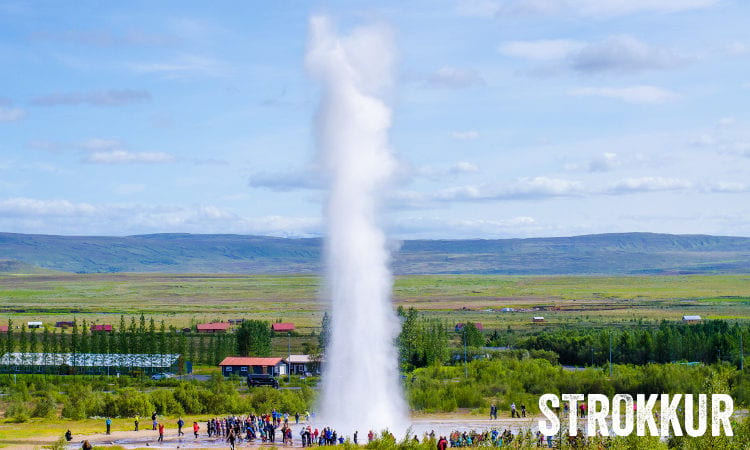 This valley is located a short distance from the golden waterfall. It is very unlikely to miss this place while driving on the Golden Circle route as the steam covers the whole hill. Haukadalur Geothermal Area is home to many bubbling hot springs and geysers — including Great Geysir which gives the other geysers their English name.
The original Geysir is no longer active (although from time to time he gives a show of his strength) but luckily only a few meters away there is Strokkur. It is a very active geyser throwing boiling water up to a height of 40 meters every 5-10 minutes. Once you arrive at Haukadalur you will most likely notice groups of people gathering around Strokkur and waiting for it to explode, armed with a camera in their hands. To get a perfect shot you need to be a little patient, as the explosions are not equally heigh. Usually every third eruption is the one worth waiting for and a really impressive one. Before Strokkur erupts it starts to boil more aggressively than usually and suddenly retracts back a bit.
Just remember to keep the proper distance! All the paths in the area are marked with signs warning about the water temperature and it is highly recommended to follow these instructions.
Interesting facts about Haukadalur Geothermal Area 
The Great Geysir – was a first known geyser described in a printed source
170 metres height – Geysir reached in 1845
every 5-10 minutes – you can admire eruption of Strokkur
95 km – distance from Reykjavík
WHAT MAKES GOLDEN CIRCLE SO POPULAR?
As mentioned before, the Golden Circle is one of the most popular places in Iceland. First of all it is easily accessible and located in a short distance from Reykjavik. First stop on this route — Þingvellir, is located about 40 minutes' drive from the city. The other reason is the variety of attractions — geysers, tectonic rift and stunning waterfalls surrounded by beautiful nature. During past couple of years, the infrastructure has been really improved — there are solid paths and viewing platforms that allow you to explore each attraction in a safe and comfortable way.
What is worth to mention is that on the Golden Circle route you can find much more than those 3 classic attractions described above. This is a very vibrant area with many opportunities to spot Icelandic farm animals, admire volcanic landscape and geothermal areas covered with greenhouses. One of the most remarkable attraction you will pass is Kerið Volcanic Crater (see "Where to see volcanoes in Iceland") — an extra stop included in all our Golden Circle Tours.