Western Iceland is located within short drive north of Reykjavík. To reach this place it is necessary (and nice) to pass by Hvalfjordur (Whale Fjord). In order to get on the other side of it you will drive through almost 6 kilometres long tunnel that reaches a depth of 165 meters.
Iceland in miniature – Sneafellsnes
There are not some many places here in Iceland where you can see so many kinds of geology packed into such a small area. Once the bus will reach peninsula it is easy to be amazed by the sites around. Gerduberg (Gerðuberg) Cliffs will be the one welcoming you first on the route. Gerduberg is an impressive wall of basalt columns reaching up to 14 meters in high. They were formed during a lava eruption, when lava ran down off the cliffs to the ocean. What can amaze you is the symmetric shape of the columns – quite unusual for naturally made structures.
Kirkjufell (Church Mountain) – the most iconic Icelandic mountain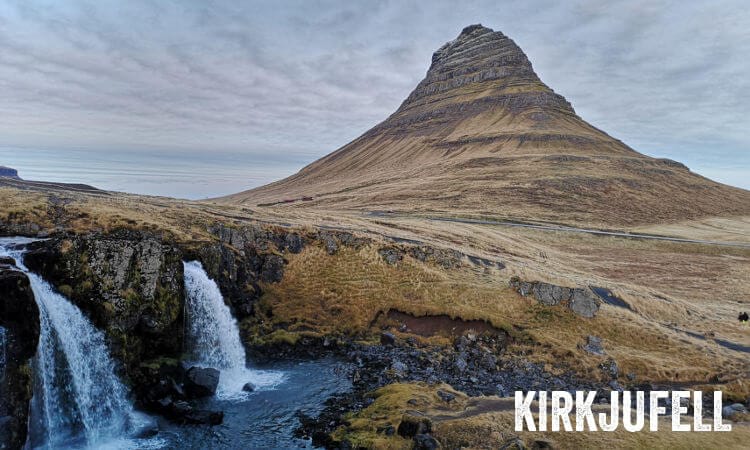 There are 3 places that Snaefellsnes is world famous for and most likely you´ve heard about them or at least seen a picture of them. First of all, this is Kirkjufell mountain – definitely the most photographed place in Iceland. The hat-shaped mountain is located in the Northern part of peninsula. The lowest part of mountain is composed by of sediments containing fossils formed early in the Ice Age (1 million years ago). The upper part was formed during the last one million years. If you have seen Game of Thrones or The Secret Life of Walter Mitty then most likely you´ve seen this place on the screen. But trust us – it looks way better and more beautiful in real life. Small tip – if you want to take the best photo then try to catch the mountain together with the waterfall.
Ytri-Tunga seal colony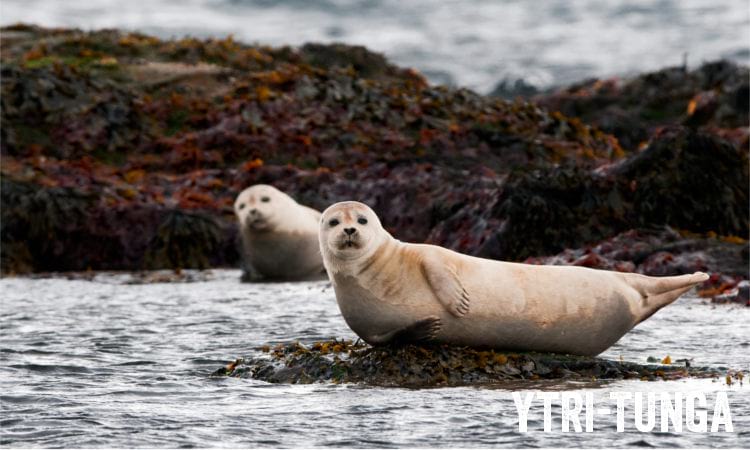 The beach near the abandoned farm of Ytri Tunga is well-known for its seal colony. It is not common to see yellow-sanded beaches in Iceland like this one. The seals are friendly and curious - sometimes they are resting on the rocks just a few meters from the shore, laying on the beach or just sticking their heads up from the water. Sometimes you need to be patient and wait for them. Of course, it can happen that no seal can be spotted, but most of the attempts end with success. Once at Ytri-Tunga you can as well admire the scenic view over Faxafloi Bay and Snaefellsjokull Volcano.
Snaefellsjokull Volcano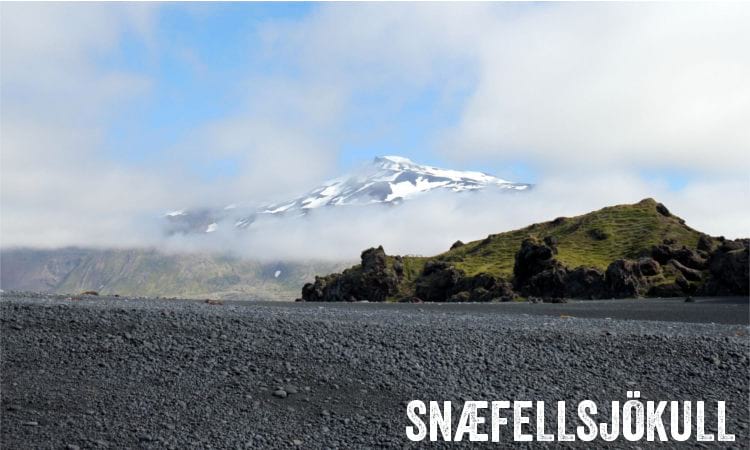 Snaefellsnes Peninsula was a set not only on numerous movies and TV series, but as well inspired notable writers. In Jules Verne's Journey to the Centre of the Earth novel the entrance to the earth´s core is located underneath the Snaefellsjokull stratovolcano. Stratovolcanoes are the most characteristic in shape – tall and conical. During eruptions lava typically cools and hardens before spreading far. This is the only volcano of its kind in this area. On clear and sunny days, the ice-covered peak is even visible from Reykjavík!
These 3 spots mentioned are of course just a few that are worth a visit on the peninsuela. On Snæfellsnes you will find many beautiful cliffs with nesting birds, fishing villages, waterfalls and many more amazing attractions. The best way to see them all is to take our Snæfellsnes National Park Day Tour.
Borgarfjordur – vacation in an Icelandic style
One of the many questions we get from visitors is "Where can I find the place where Icelanders are going to?". While many answers to this question in a form of a joke ("Tenerife"), usually they give a proper answer later – Borgarfjordur. Due to its unusual microclimate this is one of the warmest parts of Iceland and (what is most important for local people) has a forest, lovely lava waterfalls, hot springs and dozens of walking paths ideal for short hiking trips.
Icelandic Sagas
If you decide to discover Borgarfjordur with us on our Lava Cave, Waterfalls and Krauma SPA tour your first stop will be at Bifrost (known from mythology as the rainbow bridge that connects Asgard, the world of Gods, with Midgard, the world of humans). Just next to the University of Bifrost you will find three Grabrok Volcanic Craters. There you can take one of two paths – climb on the top of Big Grabrok or just have a relaxed walk to the viewing point located on the side. If you decide to go to the top it will not be very demanding – wooden stairs have been built there recently.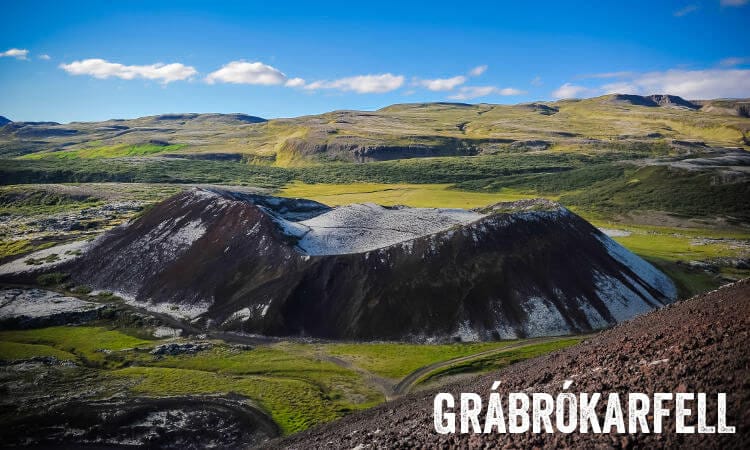 Actually, the whole area of Borgarfjorður can be regarded as the setting for many of the Icelandic Sagas. One of the most important places in Icelandic culture is Reykholt. There you can learn a bit about history of Iceland and see Snorralaug – small hot spring used by local people since 12th century. This place was first mentioned in medieval writings of Snorri Sturluson -the famous Icelandic poet and politician who used to bath there. In present days Snorralaug is an archaeological site, but you can still take an advantage of taking a warm bath in rich in minerals geothermal waters that boil underneath the ground in Borgarfjordur area. Just next to the Deildartunguhver – a hot spring with highest waterflow in Europe, you will find a modern Geothermal SPA called Krauma. Thanks to its location you will not be overwhelmed by the number of people around – you can just relax!
Lava attractions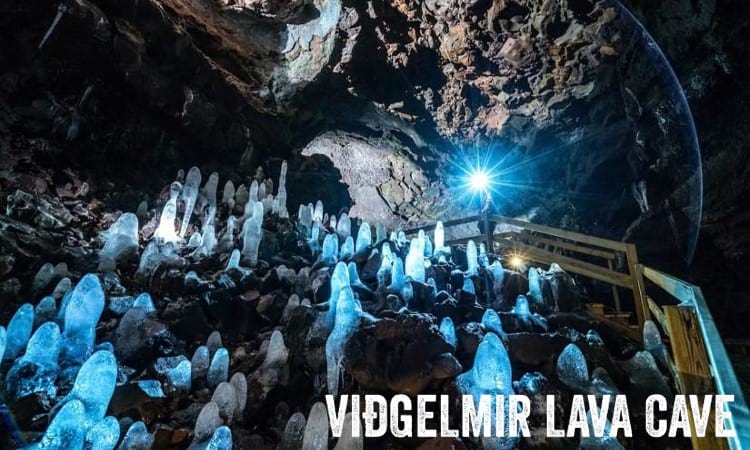 One of the key reasons why it is worth to visit this part of Iceland are the lava waterfalls – Hraunfossar. While you can find hundreds of "classic" waterfalls in Iceland and across the globe, the ones you will see in Borgarfjordur are really unique. Rivulets streaming from the lava field create one of the most breathtaking views in Iceland. Hraunfossar are spread on the distance of around 900 meters. Just few meters away you will find another interesting waterfall – Barnafoss. Its name, "the waterfall of the children," comes from an accident tale which is said to have taken place here in a previous century.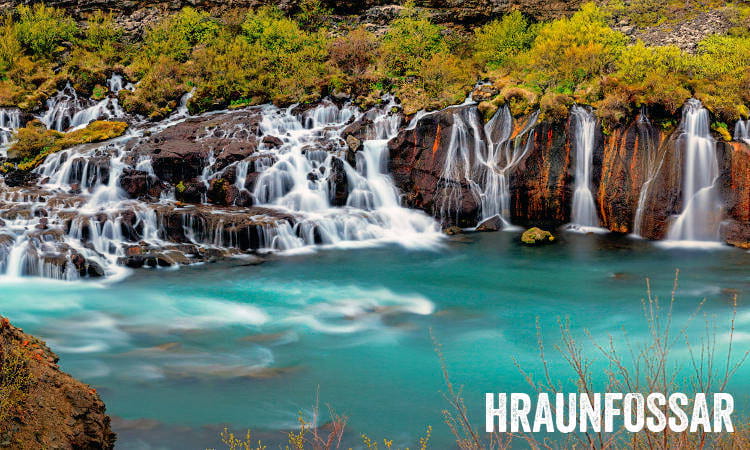 History of eruptions in this area left us not only with volcanic craters, lava fields and waterfalls, but as well with the biggest know lava cave in Iceland – Viðgelmir. The 1600 meters long cave features amazing colours and lava formations that lurk in the depths of the earth. During wintertime, the cave is covered with ice stalactites and stalagmites that creates a magical atmosphere.
Western Iceland is an area well worth to visit! If both regions grabbed your attention, then our 2-Day Snæfellsnes Tour will be the one for you.