WHERE TO SEE VOLCANOES IN ICELAND
Some say that Iceland was put on map after 2010 Eyjafjallajökull eruption. Millions of people around the world saw 400 tons of volcanic ash that was coming out of the crater every second. It caused enormous disruption to air travel across western and northern Europe, which had a direct affect on approximately 10 million travelers. Since then, many people have been looking for information about the volcanic activity of the island and its negative, as well as positive, effects on the lives of Icelanders and visitors.
One thing is certain, it was the high volcanic activity of the island that contributed to the development of settlements in Iceland. Ingólfur Arnarson, the first permanent resident of Iceland, noticed the smoke coming from the ground while sailing through Faxa Bay. The capital – Reykjavik (in English translation Smoke Bay) has taken its name from the heat sources blasting from under the earth. For centuries hot springs have been used for economic purposes such as for example laundry or, as it is done in modern times, for heating homes, generating electricity or in agriculture.
It is estimated that over the last 500 years, a lava amount that has been released from Icelandic volcanoes equals to half from all other eruptions in this period around the world. During our tours you have the opportunity to see some of the most famous Icelandic volcanoes. You can even enter some of them (extinct ones of course ? )!
Interesting facts about Icelandic volcanoes
150-200 – number of volcanoes in Iceland
18 – number of volcanoes that have erupted since settlement
99% – of islands surface is made up of volcanic rocks
Katla and Laki – are the most powerful and dangerous volcanoes in Iceland
KERIÐ VOLCANIC CRATER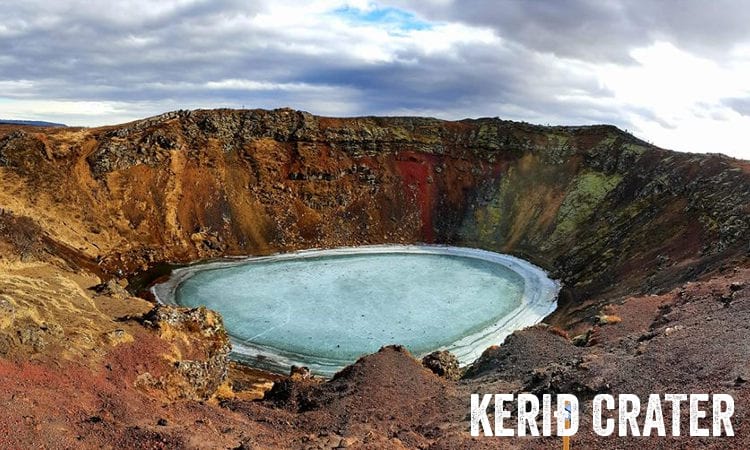 Just over 60 km from Reykjavik is located one of the most popular Icelandic volcanoes – Kerið. The crater is 270 m wide and more than 55 m deep. There is a lake in the bottom of the crater which is a little bit of magic. The lake itself is quite shallow, depending on the day its depth varies from 7 to meters. The crater is made of a characteristic red volcanic rock. Caldera was created about 65,000 years ago and certainly it´s years of activity have passed a long time ago.
WHAT IS THE BEST WAY TO VISIT KERIÐ?
What is interesting the volcano crater is located on a private land, and its owners charge ISK 400 for admission. It is located on the route from Golden Circle to Reykjavik and because it is an extremely interesting and magical place we stop there during many of our trips, and our guests do not have to worry about fees. In addition, our guides present some interesting facts not only about Keriðitself, but also about other Icelandic volcanoes.
Interesting facts about Kerið Volcano
Kerið is located on the private property
400 ISK – price for the admission
60 km – distance from Reykjavík
65.000 years – estimated age of it´s caldera
VOLCANOES ON THE SNÆFELLSNES PENINSULA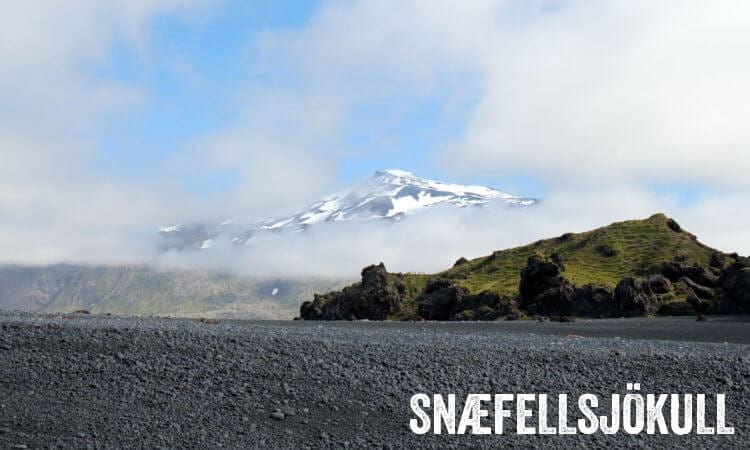 Snæfellsjökull volcano, wearing a magnificent crown of ice, is the highest peak in this area of Iceland and is often visible on clear days from Reykjavik. It is this place that Jules Verne chose as the entrance to the earth's core in Journey to the Center of the Earth. This is the so-called stratovolcano, the only one of its kind in this part of the island. It is distinguished by a characteristic, conical shape. Since 2001, the volcano itself and its closest surroundings have been protected in the form of a national park – Snaefellsjokull National Park. During our 1 and 2-day tour to Snæfellsnes you have the opportunity to look at it from almost every side.
CLIMB UP ON GRÁBRÓK!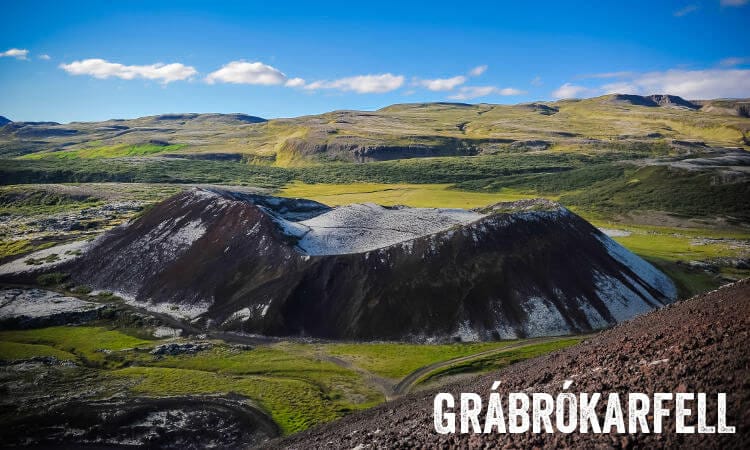 During these two tours you will also stop at Grabrok Volcanic Crater. Just few meters away from the famous Ring Road there are three craters – Stora (Big) Grabrok, Grabrokarfell and Litla (Small) Grabrok that formed approximately 3.400 years ago during massive eruption shaping the landscape around. Solid, wooden stairs lead up to the top of Stora Grabrok from where you can admire other colorful craters, lava fields and lake Hredavatn. Getting there is not a difficult hike – there is a good path to the top of the crater to make it easy for everyone who wish to go there. If you are not into getting to the top you can as well take one of the path through the flat land - views are epic anyway. Stop at Grabrok is included as well in the itinerary of our Lava Cave Day Tour.
WHAT ABOUT A JOURNEY TOWARDS THE CENTER OF THE EARTH?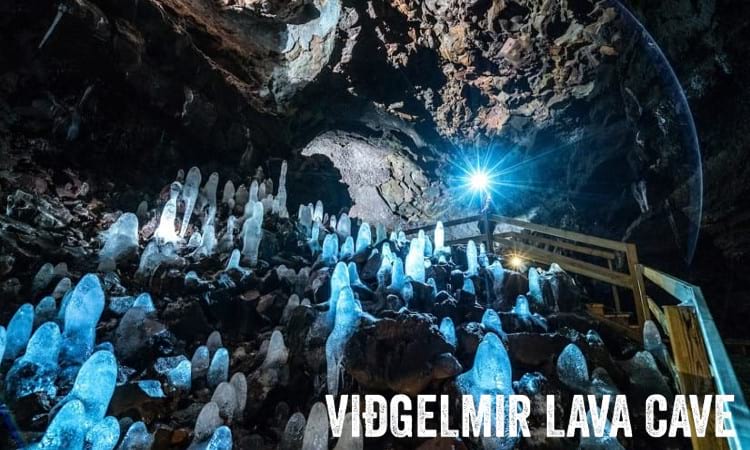 If climbing over the top of volcanic crater is not enough for you, why not to see the results of eruption from below the ground? We can take you on a journey towards the Center of the Earth in the Vidgelmir Lava Cave – one of the biggest known lava caves in Iceland. This cave was created by volcanic eruption 1100 ago, while lava river began to cool down on the surface. The adventure begins with a staircase leading down. Once at the bottom you can see colorful lava and ice formations up close. This is one of the best accessible lava caves on Iceland and getting there does not require special skills.
Interesting facts about Vidgelmir Lava Cave
1.100 years – estimated age of the cave
1.600 meters – length of the cave
6.500 ISK – price for the admission
140 km – distance from Reykjavík
EYJAFJALLAJÖKULL – FAMOUS VOLCANO AND ITS TERRIFYING NEIGHBOR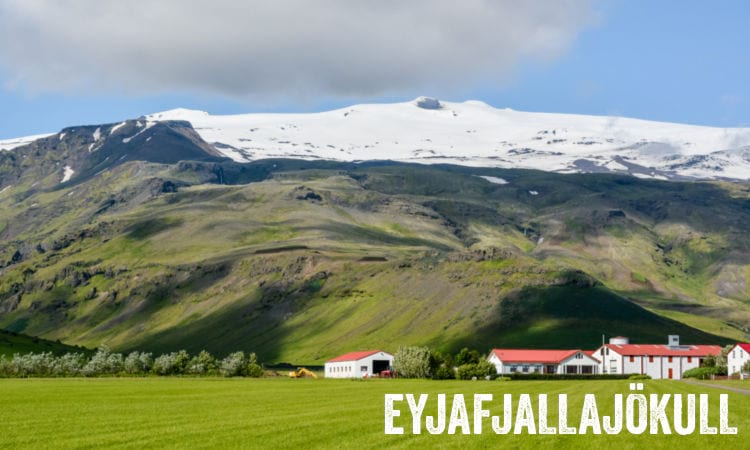 Eyjafjallajökull volcano, mentioned in the beginning of this text, is hidden beneath the glacier of the same name. Recently this is the most famous Icelandic volcano. Not only for its 2010 eruption, but also because of it´s quite a difficult name to pronounce. People from abroad find it hard to say Eyjafjallajökull, what most of us witnessed watching foreign news. It has became so famous that gift stores all around Reykjavík are selling t-shirts and mugs with some phonetical instructions.
However, Eyjafjallajökull is not the most volatile volcano in the area. His neighbor – Katla, is much bigger and more active, and its eruptions are almost always tragic in consequences. Katla´s caldera has a width of about 10 km and is very powerful! It also explodes much more often. From 16th century only three Eyjafjallajökull explosions were recorded, while twenty in Katla. Since both volcanoes are quite hard to reach, we have only possibility to admire them from the distance.